A home that has a deck or fence has extra special features. These special features are a bonus to your home. Your property has something special and should be appreciated. Clear View Pressure Wash provides deck and fence cleaning services to protect and revitalize your deck or fence.
We Can Make Your Deck Look Bright And New
The integrity and longevity of your deck depends on proper cleaning and care. When dirt, mold, and mildew begin to accumulate on your deck, the sealant slowly begins to deteriorate. This deterioration of sealant leaves your deck susceptible to water damage.
The pressure washing method that the other company's use applies pressure on your deck and fence. Pressure washing a deck or fence can cause serious damage. The pressure washing method that other pressure washing companies use to apply water pressure is exceedingly forceful. When too much pressure is applied to wood, it will splinter or even chip. The only way to fix a splintered deck or fence is to sand the wood to get rid of the splinters. This is extremely time consuming and inconvenient.
Soft Washing is the correct way to give your deck and fence a proper cleaning. Soft Washing refers to pressure washing methods that use low pressure to clean. Clear View Pressure Wash's soft washing method will remove years of grease, dirt, mold, and mildew. Our soft washing method will transform your dirty deck into a bright and dazzling wood deck. Your deck will sparkle. With proper sealant, you can protect your deck from severe water damage. Don't let your deck waste away because of improper care. Allow Clear View Pressure Wash to revitalize your deck.
What Should You Expect From Our Services
Once Clear View Pressure Wash has finished cleaning your deck and fence, you will be satisfied to see your deck and fence revitalized and looking fantastic. Also, our customers are assured that properly cleaning your deck and fence will help the wood last longer and resist long-term wear and tear.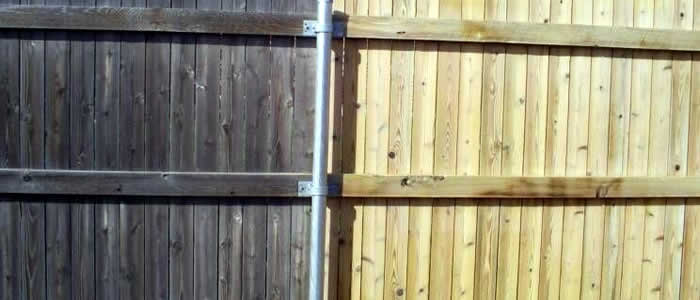 Decks should be a place to enjoy and relax. Fences should be welcoming and curb appeal friendly. With Clear View Pressure Wash, customers always get quality and an appealing property.
Clear View Pressure Wash serves within a 35mile radius of Williamston, South Carolina. We proudly serve Clemson, Pendleton, Anderson, Belton, Williamston, Pelzer, Powdersville, and Greenville SC. area with your deck and fence cleaning solutions. Start the process today by getting your free estimate. Click on the Free Estimate button or call us 864-209-6642. We will give you a free estimate within 48 hours. We will respond to your estimate by email, or by telephone when requested.